How To Build The Ultimate Cheese Board
A cheese board is said to be a great addition to any soirée or summer party. But how do you make it the star of the event? Whether you are looking to make your cheese platter more aesthetically pleasing or wowing your guests at your next get together – we have been talking to Ellie, from Golden Grazing who specialises in creating the most beautiful grazing tables and boxes for some top tips.
How much cheese is too much cheese?
You do not need to buy 100 different cheeses to impress your guests. "For a large cheese board, I would use around 4 cheeses", Ellie says. "It's also important to have a variety of soft and hard cheeses, so all of your guests can find something they love."
Ellie's top 4 picks:
mature cheddar
a strong cheese such as Stilton
Manchego
Brie
Something Salty and Something Sweet
Having both salty and sweet elements are important when preparing a cheese board of dreams. From sliced cured meats such as salami and prosciutto, to sliced fruit and a chocolatey treat, having both a salty and sweet element is key to ensuring there is something for everyone.
Ellie says, "The key to a good cheese board is ensuring there is something for everyone on there. At Golden Grazing, we mainly stick to savoury but always at a little chocolate treat. A current favourite is chocolate coated salted pretzels – the perfect mix of sweet and salty!"
Fresh and Seasonal Produce
Using fresh and seasonal produce make a great addition to any cheese platter. "Using fresh and seasonal produce is one of the main things to make a graze board your guests will remember" says Ellie. Ellie uses fresh produce that are in season, on trend and locally sourced. For gaps in the board, use fresh seasonal herbs for garnish. Here are some tips for in-season produce to use according to the season:
Autumn: fresh thyme or rosemary springs, apple or pear slices, grapes
Winter: pomegranate seeds, blood orange slices, cranberries
Spring: fresh berries, fresh pesto, radishes
Summer: Fresh basil, sliced peaches, fresh figs
Accompaniments
Chutney and cheese are the ultimate combination, so make sure to provide plenty for your guests. Pickles and jams are also a good accompaniment to pair with cheese. For a surprise element, adding hummus or fresh pesto to your grazing board will be sure to please the tastebuds of your guests. Ellie mentions "Caramelised red onion chutney is an absolute must for the ultimate cheese board. Aside from this, I love to add a spiced humous topped with pomegranate to my boards which is excellent to dip crackers into."
So, now you have got your cheese board ready to go, how do you put it together to make it Instagram-worthy?
Choose your board
– cheese boards are typically assembled on a flat wooden or slate board. You want a board big enough for the number of guests. Our
paddle board
is the perfect solution for a mid-range or large board.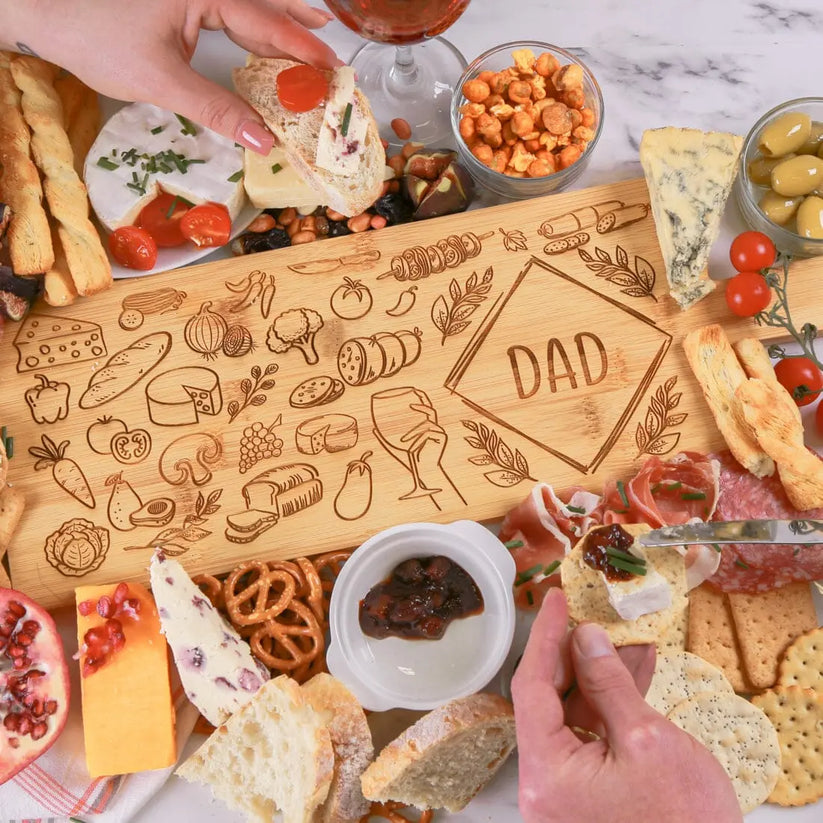 Start with the cheese – Place your cheese around the board, pre-cut or in blocks is fine.
Offer some bread – Sliced baguette, crackers and bread sticks in different varieties and flavours will complement the cheese perfectly.
Fill in the gaps – With all the gaps around the cheese, fill them in with all your sweet and salty goodness! Use ramekins for olives, chutneys, and accompaniments.
Finish off with some garnish – fresh herbs, rosemary sprigs, edible flowers or additional fruits are a great way to give your board a seasonal touch.
Serve
– Get ready to let your guests tuck in!